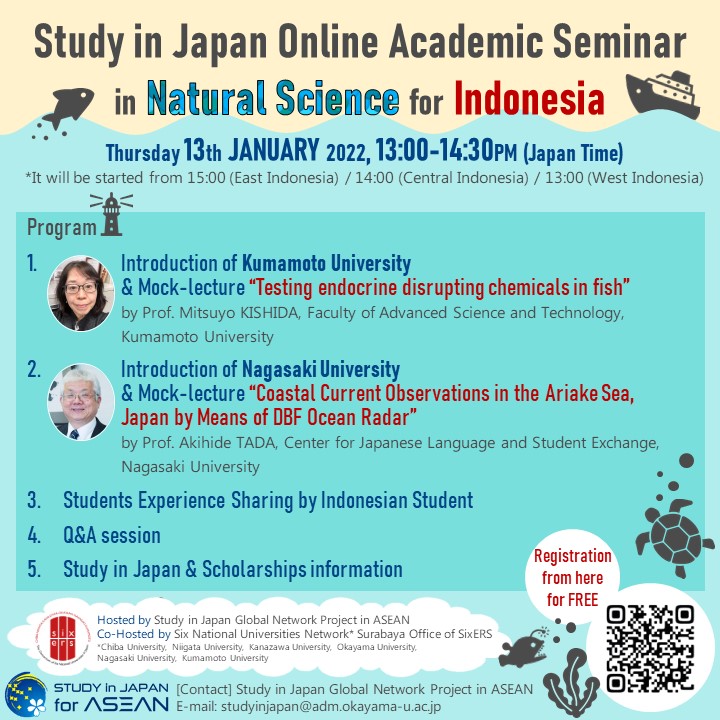 Dear all,
Greeting from Okayama, Japan!
This is a secretariat of "Study in Japan Global Network Project in ASEAN" commissioned by Ministry of Education, Culture, Sports, Science and Technology, Japan.
We will hold "Study in Japan Academic Seminar in Natural Science" exclusive for Indonesian people who wish to Study in Japan like you. In the webinar, we will welcome not only faculty members from Japanese prestigious universities but also current students who study in Japan.
[Information about our seminar ]
Date and Time: Thursday 13th January 2022 13:00-14:30 (Japan Time) *15:00-16:30(East Indonesia) *14:00-15:30(Central Indonesia) *13:00-14:30(West Indonesia)
Participation Fee: Free of charge
Venue: Online (Zoom Webinar)
Program:
Introduction of Kumamoto University and Mock Lecture (Testing endocrine disrupting chemicals in fish)
Introduction of Nagasaki University and Mock Lecture (Coastal Current Observations in the Ariake Sea, Japan by Means of DBF Ocean Radar)
Student Experience Sharing by Indonesian Students
Q&A
Study in Japan & Scholarships Session
▼Registration from here
https://contact.schoolynk.com/application/?formId=61c51876668e0a000ed9712e
We are looking forward to meeting you online!
:::::::::::::::::::::::::::::::::::::::::::::::::::::::::::::::::::::::::::::
Study in Japan Global Network Project Regional Office in ASEAN
(International Affairs Department, Okayama University)
2-1-1, Tsushimanaka, Kita-ku, Okayama 700-8530, JAPAN
Email: studyinjapan@adm.okayama-u.ac.jp
Website: https://studyinjapan-asean.jp/