Dear all,
Greeting from Okayama, Japan!
This is a secretariat of "Study in Japan Global Network Project in ASEAN" commissioned by Ministry of Education, Culture, Sports, Science and Technology, Japan.
Are you interested in studying Science in Japan?
If so, please don't miss our upcoming seminar "Study in Japan Online Seminar in Science" for ASEAN.
[Information about our seminar ]
Date and Time: Friday 10th September 2021, *14:00-15:30 (Philippines, Malaysia, Singapore)*13:00-14:30 (Cambodia, Thai, Laos, Vietnam, WIB)*12:30-14:00 (Myanmar) 15:00-16:30(JST, GMT+9)
Venue: Online (Zoom Webinar)
Participation Fee: Free to charge
Program:
1. Introduction of Science Studies at Shizuoka Univ.(Biochemistry)
2. Introduction of Science Studies at Okayama Univ.(Analytical Chemistry)
3. Student Experience Sharing
4. Q&A
5. Study in Japan, Information Session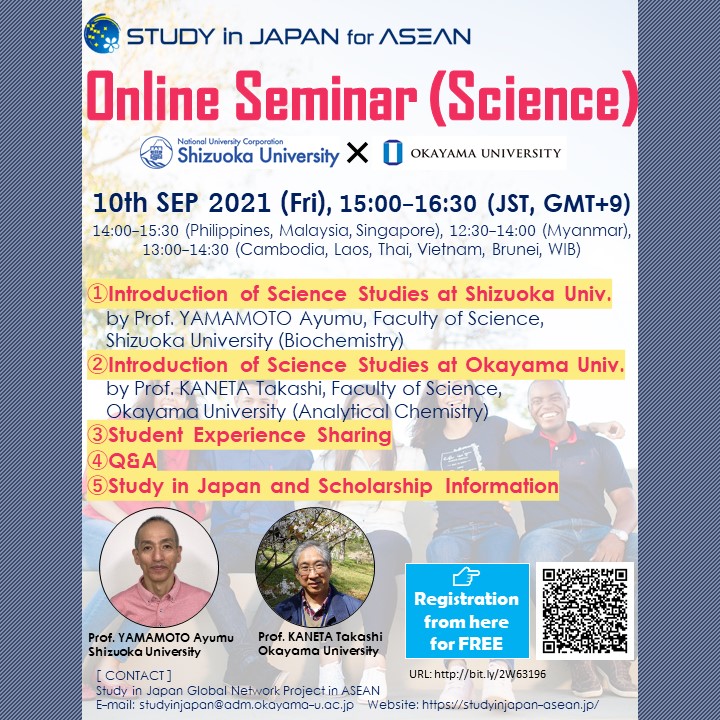 ▼Registration from here
https://contact.schoolynk.com/application/?formId=611dbef7ed5de6001aa081cb
We are looking forward to meeting you online!
:::::::::::::::::::::::::::::::::::::::::::::::::::::::::::::::::::::::::::::
Study in Japan Global Network Project Regional Office in ASEAN
(International Affairs Department, Okayama University)
2-1-1, Tsushimanaka, Kita-ku, Okayama 700-8530, JAPAN
Email: studyinjapan@adm.okayama-u.ac.jp
Website: https://studyinjapan-asean.jp/
Instagram: https://www.instagram.com/studyinjapan_asean/
:::::::::::::::::::::::::::::::::::::::::::::::::::::::::::::::::::::::::::::