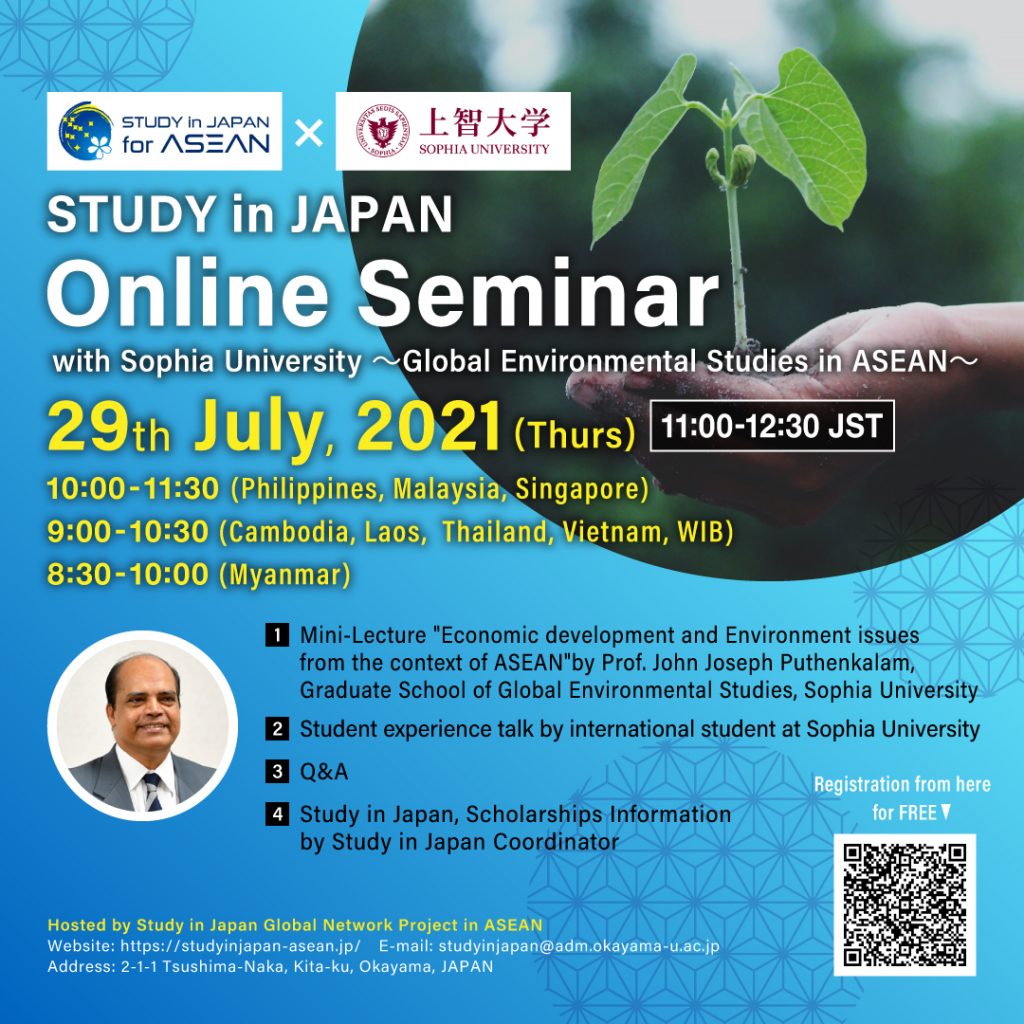 Greeting from Okayama, Japan!
This is a secretariat of "Study in Japan Global Network Project in ASEAN" commissioned by the Ministry of Education, Culture, Sports, Science and Technology, Japan.
We will hold a "Study in Japan Online Seminar about Global Environmental Studies in ASEAN" for the ASEAN people who wish to Study in Japan like you.
Let's join this webinar and learn more about how to study in Japan!
[Information about our seminar]
Date and Time: Thursday 29th July 2021, 11:00-12:30(JST, GMT+9)10:00-11:30 (Philippines, Malaysia, Singapore)9:00-10:30 (Cambodia, Thai, Laos, Vietnam, WIB)*8:30-10:00 (Myanmar)
Venue: Online (Zoom Meetings)
Participation Fee: Free to charge
Program:
Mini-lecture "Economic development and environmental issues from the context of ASEAN" by Sophia University
Student experience talk by an international student at Sophia University
Q&A
Study in Japan, Scholarships, Information by Study in Japan Coordinator
▼Registration form here
https://contact.schoolynk.com/application/?formId=60e53d04bfdb750022f5a253
:::::::::::::::::::::::::::::::::::::::::::::::::::::::::::::::::::::::::::::
Study in Japan Global Network Project Regional Office in ASEAN
(International Affairs Department, Okayama University)
2-1-1, Tsushimanaka, Kita-ku, Okayama 700-8530, JAPAN
Email: studyinjapan@adm.okayama-u.ac.jp
Website: https://studyinjapan-asean.jp/
Instagram: https://www.instagram.com/studyinjapan_asean/
:::::::::::::::::::::::::::::::::::::::::::::::::::::::::::::::::::::::::::::